Elderly Exemption
The Town of Tazewell will be accepting applications for the Elderly Tax Exemption for the 2016 real estate taxes. In order to qualify for this exemption you must meet certain requirements such as, being 65+ years old and certain financial guidelines. These applications will be due back to our office no later than April 1, 2016. Any applications received after this date will not be admissible. If you would like to apply for this exemption please contact us at 276-988-2501 or stop by our office and pick up an application.
Ornament Contest Winner

In the fall, the Town of Tazewell hosted an ornament contest for the Governor's Mansion Christmas Tree. The theme was, "Celebrating Virginia's Localities". Residents were asked to design an ornament that uniquely represents this community. The Winner was Carolyn and Larry Kegley with their original creation of "Early Log Home". Congratulations Carolyn and Larry!
Once A Bulldog Scholarship
It's hard to believe, but in five months our Tazewell High School Seniors will be graduating and heading out in the world for new challenges and many to further their education. One great way of assisting our graduates in accomplishing their goals is by donating to the "Once a Bulldog Always a Bulldog" Scholarship Fund. This is an ongoing Scholarship Fund established in 2012 to honor Dr. Charles Grindstaff an avid proponent of the importance of education. Every year this scholarship is awarded to two deserving Tazewell High School Seniors based on their higher standards, giving back to the community and their desire to further their education. Tax deductible donations can be made to "Once a Bulldog Always a Bulldog" Scholarship Fund, Town of Tazewell, 201 N Central Avenue, Tazewell, Virginia 24651.
Water Pressure and Meter Project **PLEASE TAKE NOTICE**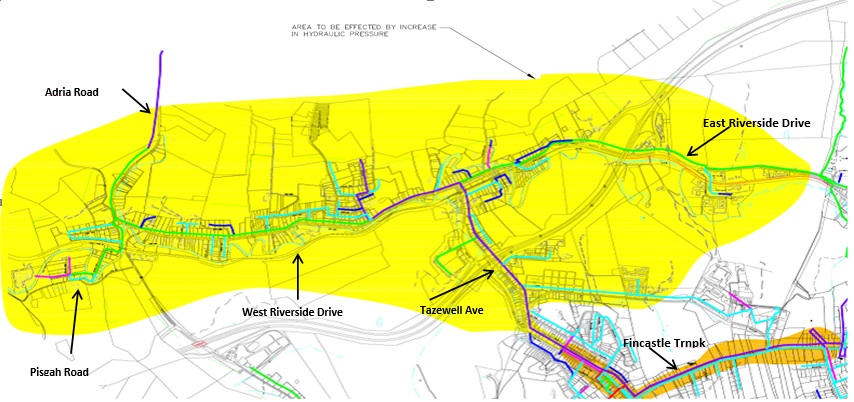 Water Meter Replacement and Upgrade Project
Matchpoint Inc. has been contracted to assist the Town of Tazewell water crew to replace existing meters within the distribution system. The water meter at your residence or business will be replaced in the near future with a new one. Your water may be shut off for a short time during the installation process. Upon completion please flush the lines of any debris by running the COLD water spigot on your bath tub for one minute. No further action will be required. If any problems are encountered please contact 276-988-2501.

Upcoming Events
January 23
CART presents Junie B's Essential Survival Guide to School at Richlands Middle School at 6:00pm
February 6
CART presents Chicken Dance at Richlands Middle School at 3:00pm
February 13
Tazewell Area Chamber of Commerce Valentine's Day Dance Saturday, February 13, 2016 VIP Room @ Fourway Plaza Heavy Hors d'oeuvres at 7:00 p.m. Music starts at 8 p.m. – Midnight with Victor Lawson & Boogie Chillen. To purchase tickets call 276-988-5091.
February 14
CART presents Sweet Potato Pie at Richlands Middle School at 3:00pm.
March 3
CART presents A Closer Walk With Patsy Cline at Richlands Middle School at 7:00pm.
March 19
Town of Tazewell Easter Egg Hunt at Lincolnshire Park 11:00am. Rain date will be March 20.
March 20
CART presents the Highlands Ballet Company Academy Sleeping Beauty… The Spell at Southwest Virginia Community College at 3:00pm.
*For more information on the CART programs please call 276-963-3385*