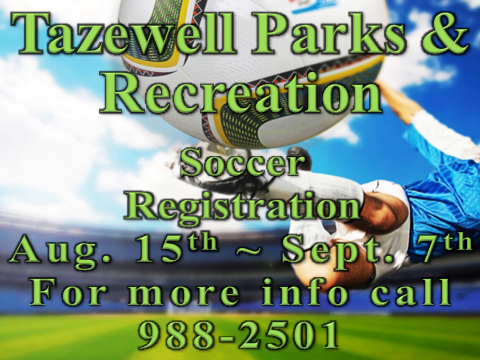 The Town of Tazewell Parks & Recreation Department now has soccer registration open through September 7, 2018.
REGISTRATION DEADLINE: September 7, 2018
Any forms postmarked or brought in after September 7, 2018 will be assessed a $10.00 Late Fee.
In addition, there will be ABSOLUTELY NO registrations taken after September 14, 2018.
A registration form must be filled out for each player and can be downloaded here.
Each new player must submit a copy of their birth certificate.
Fall Fees: $35 per player
Family discounts: 2 players/$30 per
Make checks payable to Tazewell Recreation Department. Forms may be returned by Mail or In Person at Tazewell Town Hall.
Sorry, there will be No Refunds if a Player registers and then decides not to play or is unable to play.
Players will be notified by their Coach about two (2) weeks before the first scheduled game. The practice schedule and location are determined by your coach.
Shin guards are required and must be covered completely by socks Shoes with non-removable plastic or rubber cleats are recommended. Sneakers are acceptable. Metal cleats and shoes with a toe cleat are not allowed. All shoes must comply with Virginia Youth Soccer Association standards.
IMPORTANT REMINDERS
No guarantee that request for specific player matchups will be made.
ABSOLUTELY no trading or moving players by coaches or parents to accommodate requests.
Sportsmanship starts with you (coaches & parents), so please be respectful to players, coaches, officials, and each other. Failure to do so can and will result in removal for the soccer season and park.
No smoking of any kind including Vapor.