The Town of Tazewell Public Works Department is in charge of multiple tasks throughout the town. They service citizens in the town by taking care of water and sewer problems, garbage pick-up, street care and maintenance, recreation park care and maintenance, town owned building maintenance, and several other jobs throughout the town.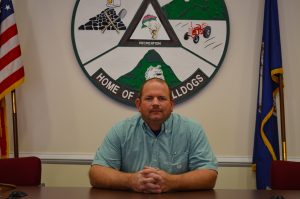 Kenny Howington
Assistant Public Works Director
Kenny Howington
Assistant Public Works Director
Blaine White
Water Pollution Control Supervisor
Blaine White
Water Pollution Control Supervisor
Clean Up Month
Each year the Town designates the month of May to be "clean up month". During this time, the Town sanitation crews will collect any special garbage free of charge, excluding appliances and any items the landfill will not allow such as paint, oil, and tires. During this month, you may stop by the Town Municipal Building and receive 5 free trash bags.
Updated rates as of 7/2014-
Monthly Fees:
Residential $13.00 (In Town) — $20.00 (Out of Town)
Dumpster Fees:
2 yard – $8.00 per pick up
4 yard – $11.50 per pick up
6 yard – $14.50 per pick up
8 yard – $17.50 per pick up
Refuse must be secured in containers so it will not fall out, blow out, or be scattered by animals; and the containers should have handles for lifting. Receptacles should not weigh more than 40 pounds. Extra pickup items will be picked up free of charge; however, prior notification must be given to the Town of Tazewell before the garbage collection day. You will need to come by the office, fill out a Special Pickup Form and receive your stickers to place on the items. Brush may be picked up for a $34.00 fee per load and the brush must be 3' or less in length.
All garbage should be sat out by 8:00 a.m. on the designated garbage pickup day.
Garbage pickup may be delayed on days of inclement weather. When the Town Municipal Building is closed for a holiday(s), the garbage scheduled for pick up on the day(s) closed will be picked up on the following business day. For additional information regarding garbage collection, please call 276-988-2504.The Town now has a cardboard recycling program for businesses with collection on Monday and additional days as necessary. For information on the recycling program, please call 276-988-2501.