Business Directory Request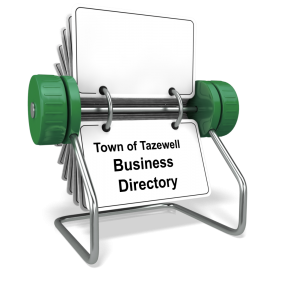 We are pleased to announce the addition of a dedicated Business Directory to our website!
Listings are FREE to businesses within the corporate limits of both Tazewell and North Tazewell. Listings include key information about your business, links to your business and social media pages, including a photo and optional short video.
Our Business Directory can be accessed at: www.townoftazewell.org/business
To kick start the process, fill out the online request form below with information about your business. Once submitted, the web administrator, Susan Reeves, will process your request. You will receive an email confirmation, that includes login information you can use to make updates to your listing. Once your request has been processed, Susan will contact you to gather any additional information and to schedule an appointment to visit your business, if needed.
If you wish to contact Susan directly, please call her at (276)970-1780 or email her at townoftazewell@gmail.com
Also included with your free listing is a free photo of your business to include in your listing (unless you prefer to submit your own) and a free (optional) 45 second video of you promoting your business.
Overview of the Business Directory, and how the submission process works:

A copy of the instructions can also be downloaded here.