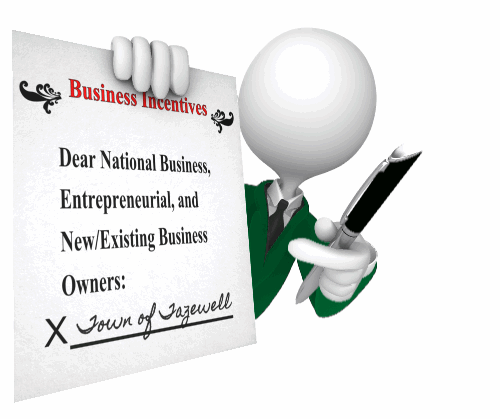 Michael Hoops, Mayor
Dr. Terry Mullins, Vice Mayor
Nancy Brooks, Councilmember
Dr. Chris Brown, Councilmember
Dr. Glenn Catron, Councilmember
Emily Davis, Councilmember
David H. Fox, Councilmember
Dear National Business, Entrepreneurial, and New/Existing Business Owners:
As Town Manager what can I recommend or do as a local government manager to help potential businesses make expansion decisions or geographical expansion decisions and maybe locate within our Town which would eventually provide much needed amenities and jobs? What can I do as Town Manager to help individuals with potential new industry foresight and ideas, step up to the plate and swing for a new industry or opportunity to make one of the most sought after American dreams come true?
The results of such thinking are somewhat aggressive for a Town Manager but well worth the risk. It also eagerly earned the unanimous support of the Town of Tazewell Town Council and our Economic Industrial Development Authority.
Starting July 1, 2016, National Business, Entrepreneurial and new/existing business owners that want to expand or build in the Town of Tazewell will now have the opportunity to apply to do so without having to reduce their annual income by the value of most of qualifying local taxes. A qualifying business can locate or expand within the political jurisdiction of the Town of Tazewell and have the benefit of applying to possibly add back to the businesses bottom line the value of one or all of the Town of Tazewell's, Transient Occupancy Tax, BPOL Tax, Real Estate Tax, Furniture and Equipment Tax or Personal Property Tax, for four (4) consecutive years! Depending on the type of business, the value of such an incentive could easily make a business plan increase its bottom line ROI significantly. The only request the locality has is that such business agrees to stay for an additional five (5) years after the four (4) consecutive years of incentives have expired. For more information contact my office at (276) 988-2501.
Todd Day, Town Manager